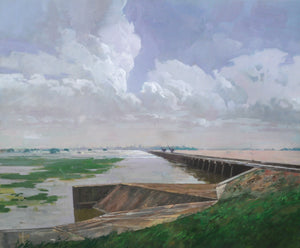 Bonnet Carre Spillway at the 2019 Opening 
Oil on Canvas
30" x 36"
POR
This 2019 painting historically marks the first time the Bonnet Carré Spillway has ever been operated twice in the same year.  
The painting is a view of the mile and a half long concrete weir, as the wooden needles in the bays of the weir are being lifted out by rail mounted gantry cranes. You can see the forceful flow of the Mississippi River entering the Spillway, which is connected to Lake Pontchartrain.
Please email us for further information, to schedule a viewing or to request information on pricing and shipping. 
This is an original work of art by Auseklis Ozols